On-premises, hybrid, multicloud, or at the edge—create secure, future-ready cloud solutions on Azure
Enterprise Database: well managed data for more reliable reporting
We'll show you how to establish secure data warehouses with inputs from multiple sources using Azure SQL and the cloud-based Data Factory. This is key to performing secure Extract, Load, Transform (ELT) processes. From there you can implement relational or SSAS models to optimise your reporting capabilities and enable self-service reporting among your teams.
Explore the benefits of Data Analytics Solutions in Azure:
Azure analytics services enable you to use the full breadth of your data assets to help build transformative and secure analytical solutions at enterprise scale. Fully managed services like Azure Data Lake Storage Gen2, Data Factory, Databricks, and Azure Synapse Analytics help you easily deploy solutions for BI and reporting, advanced analytics, and real-time analytics. Transform your data into timely insights through stunning Power BI visualizations for everyone in your organization.
Microsoft Azure is a growing collection of integrated cloud services that developers and IT professionals use to build, deploy and manage applications through a global network of data centres. With Azure, you get the freedom to build and deploy wherever you want, using the tools, applications and frameworks of your choice. Get services such as Data Analytics and Data-warehouse – all in a managed, secure and scalable environment. Bring together data from different locations, find insights, and ignite your business with data warehousing. – build your Azure SQL data warehousing solution on a fast, flexible, and trusted platform.
Innovate faster with Azure Data Analytics Solutions:
Power BI – Empower team members to discover insights hidden in your data with Microsoft Power BI.
Azure AI – Get proven AI capabilities. Build mission-critical solutions that can analyse images, comprehend speech, make predictions using data, and imitate other intelligent human and business behaviour patterns and trends.
Azure Data Lake – Azure Data Lake Storage is a highly scalable and cost-effective data lake solution for big data analytics.
Azure Data Factory – Integrate data silos with Azure Data Factory, a service built for all data integration needs
Azure SQL Datawarehouse – A modern data warehouse lets you bring together all your data at any scale easily, and to get insights through analytical dashboards, operational reports, or advanced analytics for all your users.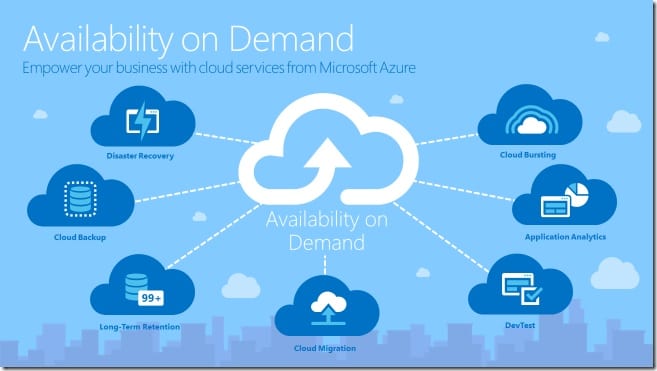 Microsoft Azure – enabling Organisations to take full advantage of Cloud Services:
Migrating servers, storage, databases, software, analytics and more to the Cloud, which is powered by Microsoft Azure, enables businesses to save on infrastructure costs and access what they need in a scalable, flexible and cost-effective way.
Benefit from quicker app deployment, data backup, analytics and more, all on-demand. Scale up or down according to resources, opportunities, and market demand. Innovate with rapid app building capabilities on the cloud.
Azure Cloud Services & Benefits:
Cloud computing is a big shift from the traditional way businesses think about IT resources. There are many reasons why more and more companies are turning to Azure cloud computing services, including:
Cost – Cloud computing eliminates the capital expense of buying hardware and software and setting up and running on-site datacenters—the racks of servers, the round-the-clock electricity for power and cooling, and the IT experts for managing the infrastructure. It adds up fast.
Speed – Most cloud computing services are provided self service and on demand, so even vast amounts of computing resources can be provisioned in minutes, typically with just a few mouse clicks, giving businesses a lot of flexibility and taking the pressure off capacity planning.
Global scale – The benefits of cloud computing services include the ability to scale elastically. In cloud speak, that means delivering the right amount of IT resources—for example, more or less computing power, storage, bandwidth—right when they're needed, and from the right geographic location.
Productivity – On-site datacenters typically require a lot of "racking and stacking"—hardware setup, software patching, and other time-consuming IT management chores. Cloud computing removes the need for many of these tasks, so IT teams can spend time on achieving more important business goals.
Performance – The biggest cloud computing services run on a worldwide network of secure datacenters, which are regularly upgraded to the latest generation of fast and efficient computing hardware. This offers several benefits over a single corporate data-centres, including reduced network latency for applications and greater economies of scale.
Reliability – Cloud computing makes data backup, disaster recovery, and business continuity easier and less expensive because data can be mirrored at multiple redundant sites on the cloud provider's network.
Our Project Methodology
Our @The Heart methodology demands that we stand shoulder-to-shoulder with you. Seeing what you see, feeling what you feel. Only then can we grasp the challenges and opportunities unique to you.

In every case, we start simply by clarifying everyone's thinking. The beginning of the process should always be about WHY you need change. The HOW you achieve it can then follow.
Discovery
Talk is good. We'll run workshops to help…
Design
Now comes the fun part. With your 'As…
Build & Implement
The consistent success of our project management is…
Find out about our Project Methodology