ERP for Food & Beverage
Delight consumers and retailers with your flexibility and innovation with steamlined 'farm to shelf' control & visibility
Aptean Food & Beverage
Your margins are super-tight. So are government regulations. On top of that, constantly changing consumer preferences keep shifting your production goalposts. The fact is, conventional accounting systems or generic ERP can no longer support ambitious food & beverage businesses.
If you're ready to compete in this new world and build ever-stronger relationships with your retailers, then we're ready to help you transform.
With our specialist experience we turn Aptean Food & Beverage into a bespoke, future-proof solution just for you.
With predictive intelligence at the system's heart you'll streamline, automate and integrate all your business processes end-to-end. You'll enjoy improvements in quality and traceability, plus catch weight capability, all without the need for any 'bolt-on' third party software. So simplicity and reliability also come built-in.
How ERP Software for Food Manufacturers Unlocks Savings and Increases Profitability.
In recent years, the food industry has been reminded that change is inevitable. No sooner have we recovered from a pandemic; food companies have faced new challenges: from rising inflation to supply chain bottlenecks.
Watch our webinar in partnership with Aptean, to learn more about Adapting your Food & Beverage business to market changes. Learn how:
Digital Transformation is Demonstrating Tangible Benefits
Economic Uncertainty is Increasing Focus on Efficiency
Automation is Addressing Labour and Skills Shortages
Aptean Food & Beverage. The ERP dedicated to your industry
5
Implementations each month
Take lean manufacturing to the next level
We'll show you how you can please consumers and retailers with your flexibility and innovation. At the same time you'll demonstrate your safety compliance, non-conformance management and complete 'farm to shelf' supply chain visibility.
Better forecasting in an ever-changing marketplace
The system will bring your data to life with demand forecasting and machine learning. You'll be able to plan production more accurately, which in turn reduces your operational costs.
Please customers with your smooth order processing
The system will manage orders from multiple channels and give your people the information they need to deal with customers confidently.
Take precision control of your purchasing
The system will automatically inform your reorder levels to help you avoid over- or under-investment. At the same time you'll be kept constantly up-to-date with your suppliers' performance.
Monitor all your stock movements in real time
This will give you an instant customer edge, as your people will be able to advise delivery times with greater accuracy. They'll also have the clearest possible information on shelf life, sell-by dates and catch weights.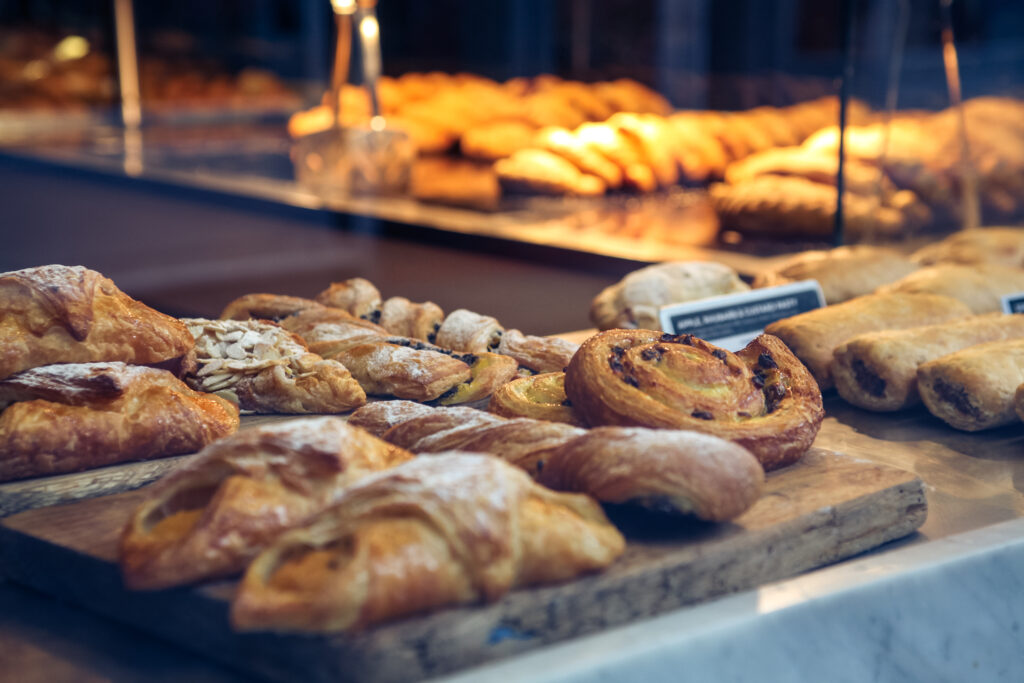 Take care of returns and product recalls automatically
Reduce the risk of human error in this notoriously time-consuming process. At the same, your people are freed up for more productive tasks.
Enjoy total financial visibility
The system automatically draws data from across all your business processes, end-to-end. It then takes care of all your everyday accounting procedures, controlling them across multiple currencies, jurisdictions, or organisations.
You can also use this real-time data to reveal the big picture of your business performance, informing your decision making at every level.
ERP for Food & Beverages. Our team turns disconnected systems into single bespoke solutions
We'll take time to get under the skin of your business. Then we'll design a system that fits your individual needs now – and into the future. We'll do all the work of the transformation, minimising disruption and cost. And we'll train your people to help everyone get the most out of the result.
Click on image to expand.
ERP Add-ons
Connect your financials, sales, services and operations with Dynamics 365 Business Central enhancements.