FP&A Transformation
Fast track your Financial Planning & Analysis / FPA transformation while reducing risk
Financial Planning and Analysis FPA Transformation
Recent years have been tough for FP&A teams
Constant volatility, disruption and uncertainty have made it difficult to provide the data needed for business decision making. Especially for teams grappling with inflexible legacy systems, doing workarounds on a maze of interlinked spreadsheets. Productivity, agility and data integrity all suffer.
Is your FPA function fully prepared for the next disruption?
To support responsive and agile organisations, cloud-based Enterprise and Financial Planning & Analysis is essential. Only then is a business truly ready to react to threats and identify opportunities as market conditions change.
To date many finance teams have struggled to truly transform their core FP&A processes, Modern cloud based technology solutions has proven to be a key enabler to organisations who are achieving the transformation that market volatility demands. Many organisations are still grappling with laborious and inflexible legacy systems, or doing workarounds on a plethora of interlinked spreadsheets that compromise productivity, agility and data integrity.
Cloud-based FP&A automation solutions, such IBM Planning Analytics are now standard for organisations of all sizes. They provide a common platform which puts you in control of your data, planning, reporting and analysis. But a technology solution is only part of the story. True transformation requires a fundamental change in how business departments interact with people, data and processes to drive integrated business planning and performance measurement that result in:
Universal access to management information and improved collaboration in business planning and how to respond to change.
A common understanding of business issues and accountability in decision-making.
Transparency of entire business processes and projected financial outcomes.
Seamless integration across data platforms for one version of the truth.
Real-time access to information, proactive decision making and continuous re-forecasting.
Transformation involves a revised perspective about business departments collaborate, leveraging integrated business planning and performance measurement to become a more responsive and agile organisation, so they are ready to react to threats and take advantage of opportunities as market conditions change.
How do you compare to Best in Class FP&A Functions
Check your current performance against The 12 Characteristics of Best in Class FP&A Organisations: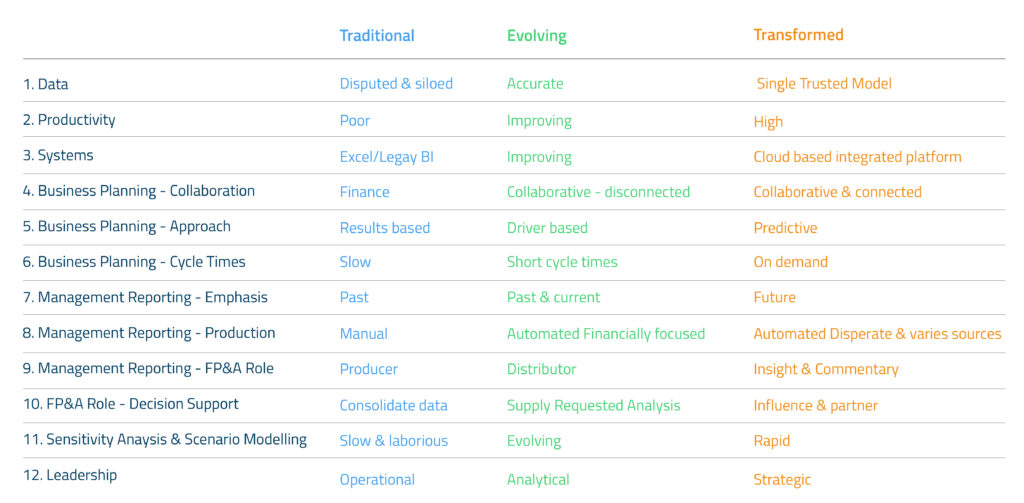 Upcoming Events
This webinar will fuel your FP&A transformation because the time is now.
See this event
See our upcoming events